Last Saturday (27th April, 2013), the highly distinguished, award winning BBC European Editor, Gavin Hewitt came to The MAD Museum.
Gavin had travelled to Stratford upon Avon to give a talk about Europe –A Continent in Crisis in the Stratford Literary Festival, so we were really pleased he managed to find the time and pop in and see us too.
MAD's eccentric tour guide Derek showed Gavin all around the museum; explaining the workings of exhibits and telling him about the company.  We are happy to say Gavin really enjoyed his visit and was particularly impressed with the rolling ball machines and roaring mechanical dinosaur.  He was wonderfully enthusiastic about MAD's ethos of 'entertaining and educational' and seemed to be fascinated by the intricate workings and clever contraptions on display.
He took home some MAD goodies and kindly posed for some photos with us too. Thanks for stopping by Gavin!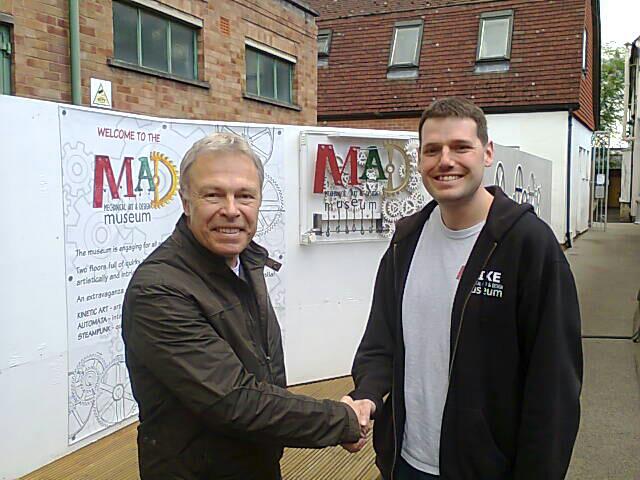 Feedback note from Gavin Hewitt 27/04/13
Thank you,
Was great fun with science included! Thoroughly enjoyed it!
Best, Gavin