The MAD Museum is an indoor attraction and offers something for the whole family!
Interact with eccentric artworks, contraptions and machines, build marble runs on our giant MAD Marbles wall. Pick up one of our free family activity sheets and take part in our holiday competitions. Use our free craft facilities to sketch the exhibits on display and take as many videos and photos as you like.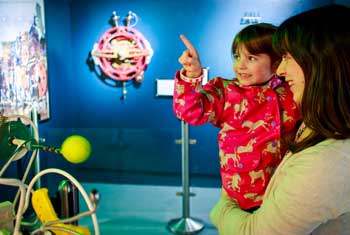 The MAD Museum is completely sensory; experience a myriad colours, unusual sounds, flashing lights and movement. Plus, children aged 5yrs or under are completely FREE!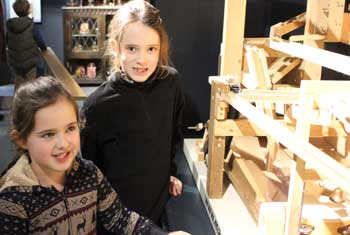 Mechanical art is loud, eccentric and interactive making it perfect for the kids! As well as being a lot of fun it subtly teaches kids about design, physics and maths.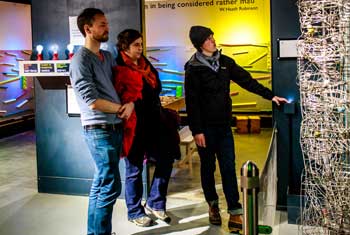 We challenge you to figure out how these unconventional machines do what they do. We've been told The MAD Museum is really nostalgic as many of the exhibits are reminiscent of the works of Rube Goldberg and Heath Robinson.
Find out what visitors have been saying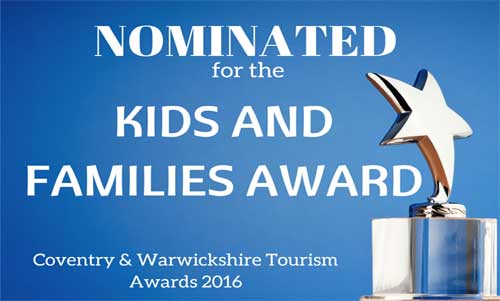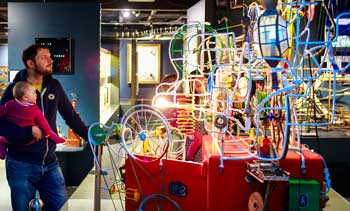 Helpful Information for Families
Tickets – Pre-booked tickets are usually only required during Warwickshire half-term holidays. If you have pre-booked tickets, don't forget to bring them with you and please arrive promptly at the time shown on your tickets.
Timeframe – it usually takes visitors 1-2 hrs to look around The MAD Museum.
Storage – the museum has limited storage but we will do what we can.
Toilets –  our toilets and disabled toilets can be found at the rear of the museum. Look for the white walls!
Baby changing facilities – are located in the disabled toilet.
Access – there's wheelchair access throughout. On quiet days we can accommodate pushchairs but if you can, please leave them at the museum's entrance.
Pets – guide dogs are welcome but sadly we can't let pets and other animals into the museum.
Food & Drink –  not permitted in the museum and we don't have in-house facilities but the museum is based right in the heart of the town so there are plenty of places to grab a bite.
Photos & Videos – please feel free to take as many as you like! Don't forget to tag us on Facebook & Twitter!
Parking – the closest car park to The MAD Museum is the Windsor Street Car Park. Click here for the details.