From Saturday 28th March until Monday 13th April 2015, The MAD Museum ran a pop-up card competition.
The brief was simple, think outside the box to create a crazy gift card, the winning card maker would receive ultimate glory! (oh and a goodie bag full of MAD treats) There were 2 rules:
Make it 3D and pop out
Include an element of MADness
We were completely amazed by the sheer number and amazingly creative talents of the people who entered.
No card was alike, everyone had put their own spin on the brief and the Team at MAD took a lot of pleasure in seeing (and playing with) the latest 3D entries.
We would like to say a huge thank you to everyone that entered!
*enter loud clapping and whooping sounds here
As with these things, there always has to be one champion and the winner of The MAD Museum's Easter 2015 design competition is………
drum roll please….
Matthew Carlisle, aged 11 from Bicester.
Well done Matthew!
All of the judges were very impressed by Matthew's originality, artistic skills and  inventiveness.  He must have spent hours creating this 6-sided pop-up masterpiece and I think you will agree this card is pretty special..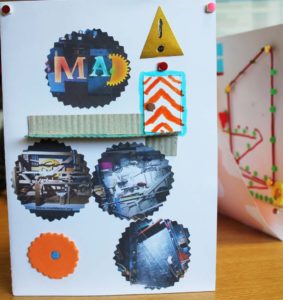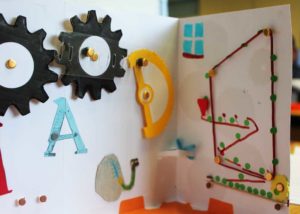 – Here is Matthew with our Issy picking up his goodie bag at MAD.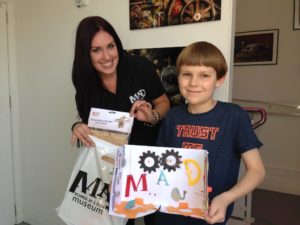 We will hold our next design competition this summer to keep an eye out for details soon……