Saturday 26th September – Sunday 22nd November 2015
The MAD (Mechanical Art & Design) Museum announces its first major temporary exhibition with works by Heath Robinson (1872–1944), a prolific cartoonist and illustrator best known for his humorous drawings of over-elaborate inventions which accomplish very simple tasks.
On view from 26th September '15 until 22nd November '15, the exhibition features an extraordinary collection of original illustrations, posters and books, which all demonstrate Heath Robinson's most celebrated work: witty, exaggerated devices. These pieces have been provided by The Chris Beetles Gallery, Sheldrake Press and private collections. The exhibition will also include a 3D augmented reality image of a well-known Heath Robinson drawing, by Turi Cacciatore.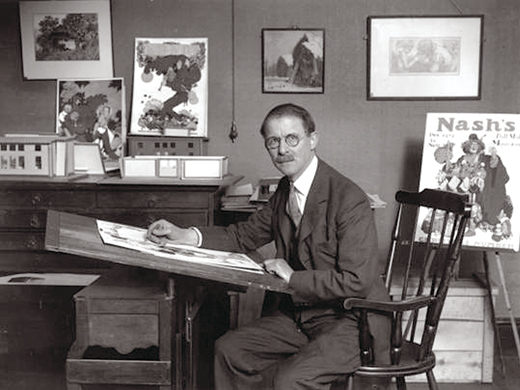 Heath Robinson was born in 1872 into a family of artists. He started his career as a landscape artist, but when he realised that wouldn't pay the bills, he began drawing book, magazine and newspaper illustrations and rapidly established himself as a talented and original practitioner. Described by Philip Pullman as the "Grand High Celestial Mechanic of Absurdity", the eccentric illustrator drew thousands of pieces of art, spanning two world wars, the Victorian age of the machine and the rise of modernism. These times are all reflected in his work and "Heath-Robinson" became established in the English dictionary as a term for any over-complicated contraption. His importance as an innovator in the fields of illustration and advertising was considerable and his complicated inventions provided a source of inspiration for Richard Simmons, the Founder of The MAD Museum, the creators of Wallace and Gromit and many other kinetic artists around the world.
In association with Sheldrake Press, "The Inventions of Heath Robinson" will be supporting two Heath Robinson Contraption competitions, one intended for school pupils around the UK and one aimed at Heath Robinson enthusiasts, engineers, sculptors and artists.
Location: The MAD Museum, 4/5 Henley Street, Stratford-upon-Avon, Warwickshire. CV37 6PT
Price: Exhibition entry is included in the museum's standard admission fee.
This exhibition is generously supported by The Chris Beetles Gallery and Sheldrake Press, publishers of the forthcoming book Very Heath Robinson.
For any questions regarding "The Inventions of Heath Robinson" contact Katie Wilson, Head of Marketing at The MAD Museum.
Email: click here Tel: 01926 865839
Carole Souter, chief executive of the National Heritage Memorial Fund said: "These fantastically wry cartoons represent British humour at its best."