Yesterday after a long anticipated (and very excitable) wait, our MAD Cart finally rolled into town. All the way from Scotland to Stratford upon Avon nonetheless!
David Williams, the man behind this incredible machine has been carefully working on this show-stopping piece for the last 6 months. He calls it the "Whirlymagiggle" Cart.
"A bit of kinetic art and steampunk rolled into one mind-boggling creation!"
David Williams is well-known for his kinetic sculptures and rolling ball machines (a number of which are exhibited at The MAD Museum). His love of copper, brass, organic compounds and geometric patterns has definitely been upheld in his latest invention. The cart itself spins and twirls and pumps steam-like shapes into the air. It also makes witty whirling sounds!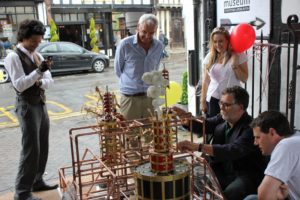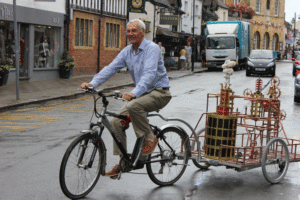 The arrival of David William's carts at The MAD Museum was a very excitable affair! Even the rain couldn't stop our MAD Founder, Richard Simmons taking it for a spin up and down Sheep Street!
It certainly brought the crowds in! The Whirlymagiggle cart is pulled around on the back of an electronic bike. We will be pedaling it around Stratford upon Avon soon so please keep an eye out!
See some more photos on our Facebook page- https://www.facebook.com/themadmuseum
Learn more about David Williams and his extraordinary creations at The MAD Museum and on his website- http://www.davidcwilliams.co.u