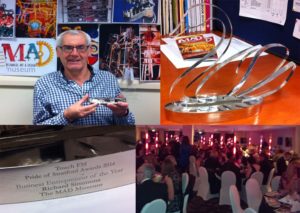 We're proud to announce Richard Simmons, Founder of The MAD Museum
WON the prestigious Business Entrepreneur of the Year Award 2014
At the Touch FM's Pride of Stratford Awards
The highly celebrated event was held at the Holiday Inn in Stratford-upon-Avon on Friday 7th February 2014. Hundreds of people attended the occasion, all of whom were there to celebrate the best of Stratford. This very glamorous black tie event kicked off with a drinks reception, guest speakers and a delicious 5 course meal, before following on to the awards ceremony.
"It was a brilliant evening. I had no idea what a huge and elaborate event it was going to be – it was like being at the Oscars! It's an honour to accept the award for Business Entrepreneur of the Year but I felt I was picking it up on behalf of the whole MAD Team, they have all work extremely hard to make the museum a success"
 Overall it was a thoroughly enjoyable and enchanting night. Richard would like to say a big thanks to Touch Fm for throwing such wonderful evening and hopefully The MAD Museum itself may feature in the categories next year??!