A week after we started displaying a fantastic new rolling ball sculpture by Robert Moore, we were lucky enough to get another mind-boggling creation!
Meet The Juggler by David Bowerman.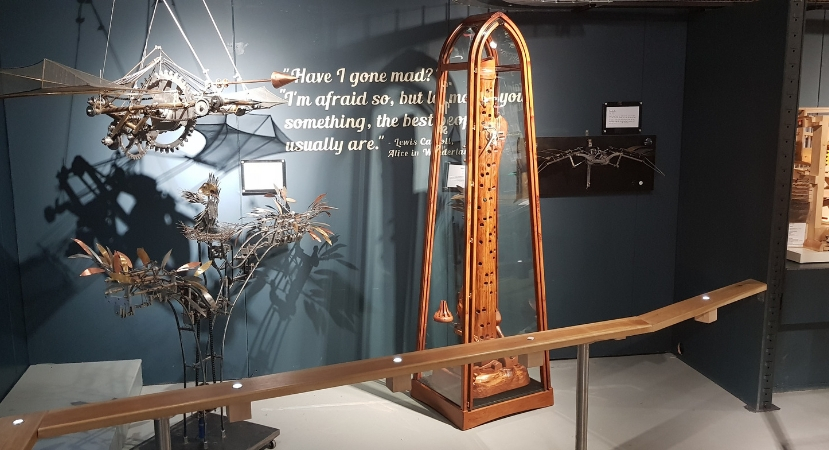 TEMPORARY EXHIBIT  – ON DISPLAY UNTIL 28TH MAY 2019
The 'Juggler' is loaded with steel balls which make a never-ending journey from the top to the bottom of the yew trunk and back up again. Each ball takes 47 seconds to find its way downhill through the maze of holes that pepper the trunk.
As one reaches the bottom, it triggers the release of the next ball and advances the clock movement. After fifteen minutes, a total of 19 balls have travelled from top to bottom. The 19th ball in the cycle is principal assistant to the 'Juggler', triggering a reaction which as David well knows "Never fails to brings a big smile to everyone's face, from young children to octogenarians". As the clock strikes the quarter, all hell is let loose. A ball shoots skyward like a rocket and then drops and plops gracefully into the leather cup mounted on top of the trunk which helps cushion the impact. Nineteen times this happens, and it has to be seen to be believed.
The ceiling of David's workshop bears witness to the long process of trial and error as it is literally peppered with dents and felt-tip crosses marking the path of many hundreds of wayward balls.
The 'Juggler' is always second-perfect because it has a radio receiver tucked away inside which listens to the national atomic clock and keeps a constant check on the time.
Find out more here –http://www.davidbowerman.co.uk/juggler.html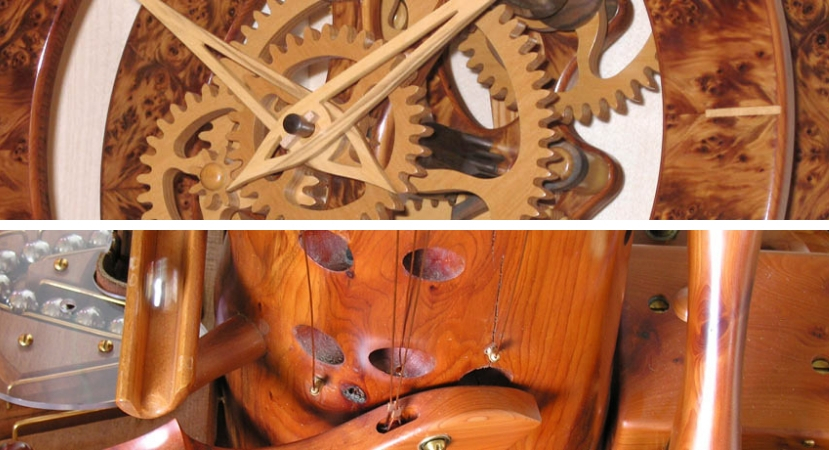 We are so excited about this new piece from David! It's clever, witty and beautifully handcrafted – all our favourite things in one sculpture! We've had it on display for a day now and it already seems to be a hit with our visitors. This is will on display at MAD for 2 months so shouldn't be missed!
David Bowerman has a brilliant website! If you are keen to find out more, please use this link