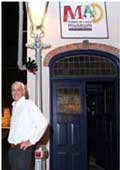 Richard Simmons – Founder
The MAD (Mechanical Art & Design) Museum has been a lifelong dream for founder, Richard Simmons who first had the idea for a mechanical museum over 20 years ago.
Having spotted a great venue in Stratford upon Avon he hoped that a completely unique and exciting attraction full of show stopping pieces of kinetic art and automata would be just what the town needed!
Being a local business entrepreneur, Richard wanted to create a team around him which would fully understand his own interests but also his sense of warmth and family culture. Mentioned below is a little bit about the team at MAD and their roles…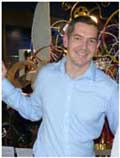 Iain Simmons – Manager
Richard's son, Iain takes care of MAD Museum business at the office. His behind the scenes duties include being the main port of call for all the current and future MAD contributors and he also handles all the finances and administrative responsibilities. A couple of times he has even been thrown into the limelight to appear on local and national radio.
Iain graduated at Sheffield University and went on to become a qualified Chartered Accountant.  He is now married to Leanne and has two lovely children, Toby and Millie.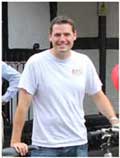 Mike Abbotts – Manager
Mike Abbots is Richard Simmon's nephew. He is the on-site manager in charge of the day-to-day operations of the museum and the smooth running of all the exhibits. His enthusiasm for maintenance, fine-tuning and being around mechanical wonders is what makes him tick – much to the envy of many, who think he has the best job in the world!
Mike is also our graphic designer, his degree in Graphics and Animation has been invaluable in creating our various adverts and posters, plus our website and online shop!  Mike has even stepped in as a MAD Museum tour guide a couple of times too!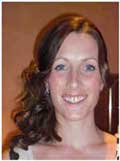 Libby Thompson – Front of House
The Front of House business falls to Libby Thompson. Libby is a mother of two and was originally offered the job by Richard Simmons in a queue at the bank! She has been with the company since day one and her friendly hospitality, switched-on practicality and bubbly character makes her a hit with all our customers.
As well as keeping the front of house in tip top condition and looking after reception and general administration tasks, Libby also manages the museum's very popular and quirky gift shop. She also coordinates the various weird and wonderful events held at The MAD Museum and the training of new members of staff.  Libby is highly committed to making sure everyone who enters The MAD Museum, leaves happy (and she's great with all the kids, even when the museum is at its busiest!)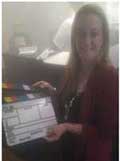 Angela Gallacher – Head of Press & Marketing
Angela is responsible for all press and marketing at the museum. As well as juggling a number of Richard's other projects, she is the main force behind developing brand awareness and spreading the word about The MAD Museum to as many people as possible across the UK and beyond.
Her responsibilities include overseeing all marketing strategy and literature, online information, press releases, engaging with potential customers at exhibition shows and forming relationships with schools, tour operators, group organisers and local businesses. She also approves all artwork, letters and media coverage.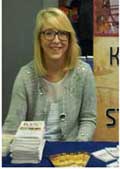 Katie Wilson – Marketing Executive
Katie works alongside Angela in the Marketing department.  Katie's main role at The MAD Museum is to coordinate school and group bookings and to see that all the details and requirements are attended to. She also ensures the museum shop is kept fully stocked with exciting new products!
Katie arranges editorial pieces and adverts in various national and regional publications and also promotes the museum at exhibitions for the public and trade. She keeps in touch with the artists, schools, the press and local businesses and accommodation, ensuring everyone is updated and informed about what is happening at The MAD Museum.  She also updates the museum's Blog, Facebook, Twitter and Trip Advisor pages and makes sure we are fully represented on relevant tourism websites. Katie has also been known to step in as The MAD Museum resident photographer too sometimes!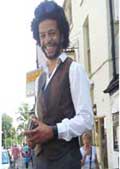 Curtis Allen – MAD Scientist
As school, group and event bookings are a regular occurrence at the museum, a good tour guide is essential! This is where Curtis comes in. Whatever the age, our steampunk-inspired MAD Scientist, Curtis, is great with all our visitors and is highly knowledgeable about the museum's exhibits.
Curtis Allen performs a variety of roles for us; another including walking around Stratford upon Avon town centre on his stilts giving out leaflets, telling people about the museum and encouraging them to visit. His illustration skills also helped us achieve our MAD Scientist cartoon character, which we regularly use in our adverts and on posters.
As well as all this he is a DJ – Stilt walking – Heath Care Assistant and a graphic illustrator who presents science workshops and has a love of loud rock music and Kung Fu films. An interesting man indeed!