The MAD Museum is proud to be working in association with the Royal Shakespeare Company for their Christmas production of 'The Mouse and His Child'.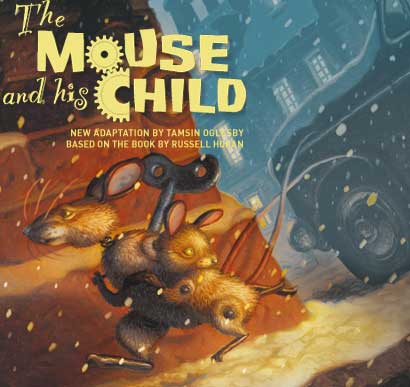 Based on the book by Russell Hoban, a clockwork mouse and his child embark on a series of adventures in order to find their way back to the toy shop they call home.
This charming tale of daring bravery, desire for freedom and the bringing together of family and friends, is not only portrayed on the stage but throughout the RSC in their reading room and front of house reception halls; this is where The MAD Museum also takes part. As well as teaming up for various joint promotions, ticket deals and competitions, The MAD Museum collaborated with the RSC to help design their reception hall displays to reflect the clockwork theme.
From mid November there will be an amazing moving bird-like sculpture by artist Piotr Jedrzjewski, which flies suspended on wires between two balconies overhead. In another area, the MAD spinning and twirling Whirlymagiggle Cart will be on display. The cart was created especially for the museum by David Williams. Both the wonderful theatre production and the front of house displays provide a fabulous Christmas outing for families and groups of all ages to experience them in action!
'The Mouse and His Child' is showing from 17th November 2012 – 12th January 2013 at the RSC theatre in Stratford upon Avon and for an additional thrill, visit The MAD Museum just across the road in Sheep Street. The museum is open every day for visitors to see more amazing machines and weird, whacky inventions full of cogs, gears, marbles and mayhem!
The museum also offers school and group tours with the Steampunk inspired stilt-wearing MAD Scientist to provide a guided tour. Visits can be tailored to the needs of groups and there is a great MAD gift shop.
Come and visit us today – You'd be MAD not to!!
Find out more details at www.rsc.org.uk