Over the last couple of months, we've had a few new amazing additions to our crazy museum – welcome to the family:
Jelle Bakker's Marble MADhouse (image below)
Tim Donald's Growing Old Disgracefully
Alan Westby's two pieces of automata: Lost in Space and Landing Surprise,
Jim Gage's Engine Number 1 GMZ
Wayne Dinsdale's Pneumanoids
Helmut Lindemann called The Olympic Box
We are also happy to announce that since opening earlier this year in March, over  4,700 visitors have come to experience The MAD Museum.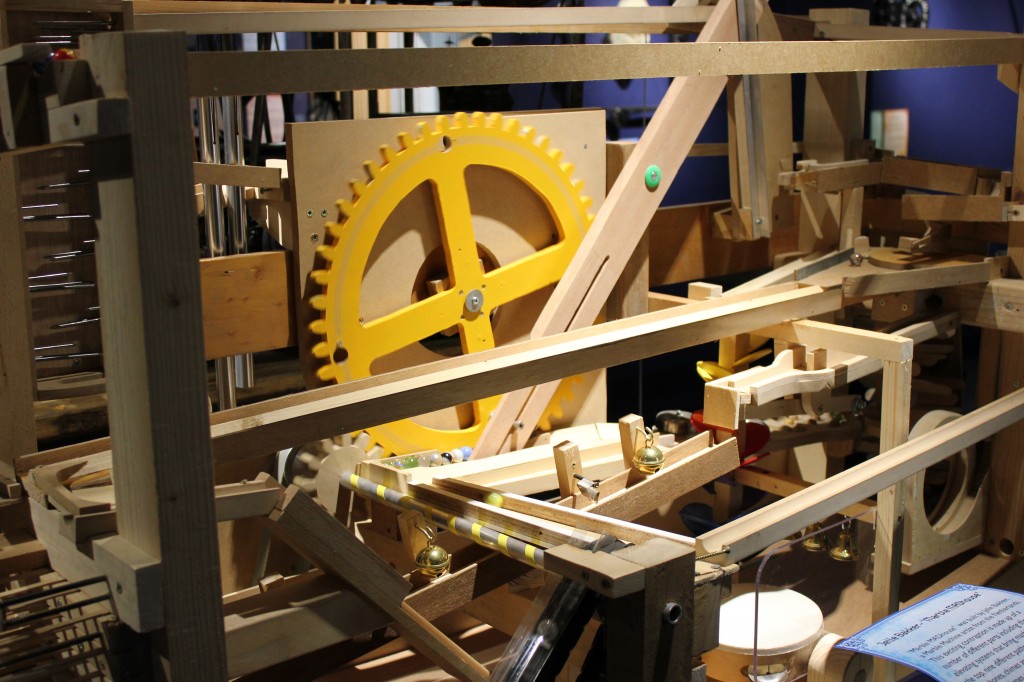 Steampunk Calendar
A couple of weeks ago The MAD Museum was visited by the team at the Sophie Lancaster Foundation. They had heard about The MAD Museum and wanted to use the museum as the backdrop for their 2013 Calendar. Sophie and her boyfriend wore alternative Gothic clothing and were picked on for their looks. They were attacked in a park and Sophie tragically died as result of her injuries. The Foundation was then set up to help eradicate prejudices against people. We will be selling these Steampunk calendars in your museum's shop. More information can be found at www.sophielancasterfoundation.com
MAD and the RSC Join Forces
The MAD Museum is working in association with the Royal Shakespeare Company for their Christmas production The Mouse and His Child. Based on the book by Russell Tobin, a clockwork mouse and his child embark on a series of adventures in order to find their way back to the toy shop they call home.  We will be teaming up with them in adverts, promotions, reception hall displays, competitions, school trips and ticket deals!
Showing from 17th November 2012 – 12th January 2013. Visit: www.rsc.org.uk
The Nuts and Bolts
So what else is happening?  Our marketing team has been heavily advertising The MAD Museum in regional and national magazines and partaking in various online promotion schemes. MAD's founder Richard Simmons has been interviewed on BBC Coventry and Warwickshire and on the prestigious BBC radio Art Show by Claudia Winkleman and the team is continually spreading the word at industry specific networking events.  We have also sent 1,000 letters to schools around the Midlands telling them all about The MAD Museum and our school trips, education packs and group deals. Last week we filmed our MAD 30 second promotional advert and you can see all the photos on our Facebook page. Stay tuned for the finished video!
                                                                                   Keep An Eye Out For Our Next Newsletter…