This Halloween design your very own trick –or- treat creation for The MAD Museum!
Draw or Make a supernatural invention for your chance to win hair-raising MAD prizes.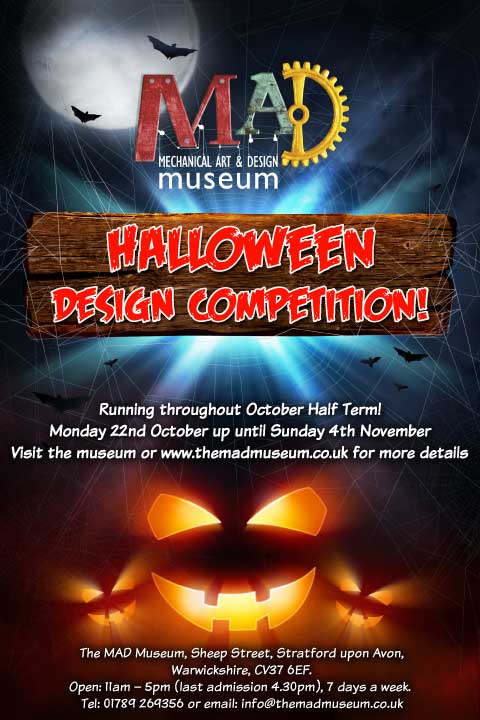 This spooktober get in the Halloween mood at The MAD Museum, Stratford upon Avon.
Expect the unexpected as you look around The MAD (Mechanical Art & Design) Museum. It's chockablock full of crazy workings from some seriously barmy inventors and MAD scientists!
A spooky cackling witch, roaring mechanical dinosaur, crazy-eye-popping robot and handfuls of old-worldly gadgets; this collection of weird and wonderful exhibits and more can be enjoyed at Stratford upon Avon's newest and most thrilling attraction.
The MAD Museum challenges you to create a crazy MAD-sterpiece of your very own!
Please design one of the following:
A crazy Steampumpkin costume,
A Witch-craft related object
or
A mind- blowing Halloweeeen Machieeene
You'll find tons of batty inspiration all around The MAD Museum!
Pick your favourite thing to design – Steampumpkin, Witch-craft or Halloweeen Machieeene and draw or make your very own blood-curdling invention! There will be winners in each of the 3 categories.
The winners will not only win amazing MAD goodies including a spooktastic sound machine and a family ticket worth £19.00, but their winning invention will proudly be displayed on The MAD Museum's website and Facebook page.
Take part in this competition from Monday 22nd October up until Sunday 4th November (prize winners will be contacted via email once the competition has ended).
Running throughout October Half Term!
Monday 22nd October up until Sunday 4th November
At The MAD Museum, Sheep Street, Stratford upon Avon, Warwickshire, CV37 6EF.
Open: 11am –5pm (last admission 4.30pm), 7 days a week.
Tel: 01789 269356
Email: info@themadmuseum.co.uk
Whether you are an enthusiastic scientist, contraption fanatic or just looking for a good day out, make sure you come and visit this Half Term…You'd be MAD not to!