3 Reasons to visit The MAD Museum this Easter
1. Several new exhibits to play with.
2.We recently installed a giant make-your-own rolling ball wall. Invent your own course out of all sorts of weird and wonderful components. MAD provides the start and finish lines and you design the rest!
3. Think you have a cool head and a steady hand? Take part in MAD's huge buzz wire game to be top of the leader board.
4.  Take part in our MAD-esque popup card competition and win prizes from our gift shop (find out more below).
5. The museum will be open every day throughout the holiday from 10am until 5:30pm.
MAD's Pop Up Greeting Card Competition
Running throughout the Easter Holiday – Sat 28th March until Mon 13th April 2015.
The Brief
For those creative individuals, whatever the age we  want to see your best MAD 3D  card. The winner will receive a goodie bag full of  MAD treats.
There are 2 rules:
1. It must have a 3D element and pop out of the page.
2. It must be related to The MAD Museum e.g include cogs, gears, buttons, robots and machines seen in the museum.
We are open to all ideas, your entry can be a photograph, drawing or cartoon. Use paper or card, make it big or small, use paints or pencils – the crafting possibilities are endless. In fact, the more weird and wonderful the better!
It is up to you how you design it, just make sure it has a mechanical MAD-esque theme and it is in some way 3D.
Ideas
Here is some inspiration  to get the creative juices flowing….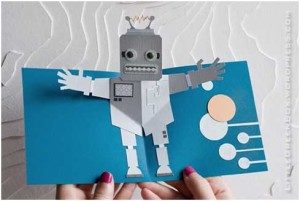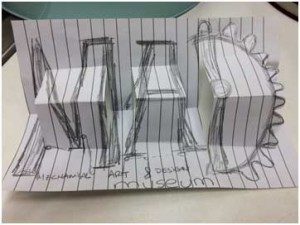 How to make a pop up cards:
http://www.wikihow.com/Make-a-Pop-Up-Card
Here's some more inspiration:
Wellingtonboot – Pop up cards – DIY instructions for beginners
Pop up cards on Pinterest
Closing Date
All entries need to be received by 5pm on Monday 13th April 2015.
The Winner will be announced before Friday 17th 2015.
Sending Your Entries
Design it at home and then drop it in or post it to:
The MAD Museum, 4/5 Henley Street, Stratford upon Avon, Warwickshire. CV37 6PT.
Please include your name, age, email address and address in the card.
The winner will receive a goodie bag full of prizes from MAD's gift shop.
The winning cards will also be displayed in the museum and featured on MAD's website.
If you wish your design returned, please make this clear to us and we will post it back to you. Any questions please email info@themadmuseum.co.uk