Why should you showcase your piece at The MAD Museum?
As the
only permanent exhibition
of its kind in the United Kingdom, The MAD Museum is
this country's go-to for mechanical ar
t.
Located in the very popular tourist town of Stratford upon Avon, many visitors from far and wide make trips here.
The museum is situated between the town centre and William Shakespeare's Birthplace in meaning hundreds of thousands of people walk that route every year and see (if not come into) The MAD Museum.
The MAD Museum is performing well and seems to be liked by our customers. We are constantly expanding and looking to better our relationships with other companies and artists from around the world.
Like many artists, we are a small family run team. We manage the museum and work hard because we love what we do.  We understand artists come in all different shapes and sizes, some of our artists are international renowned and others are hobbyists, who have produced 1 or 2 pieces of mechanical art purely out of experimentation.
 Whether you have a whole workshop of fascinating motorised art, you have constructed a one-off piece or you've found a mechanical contraption in the back of your auntie's loft, we want to hear from you.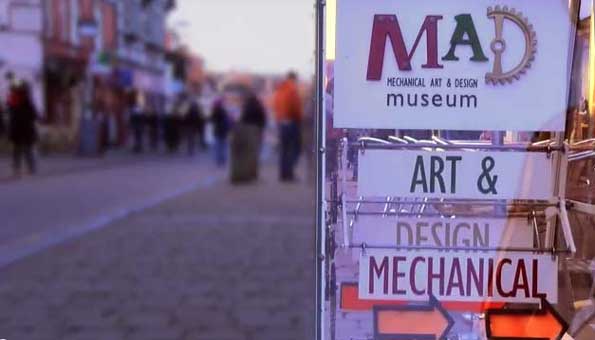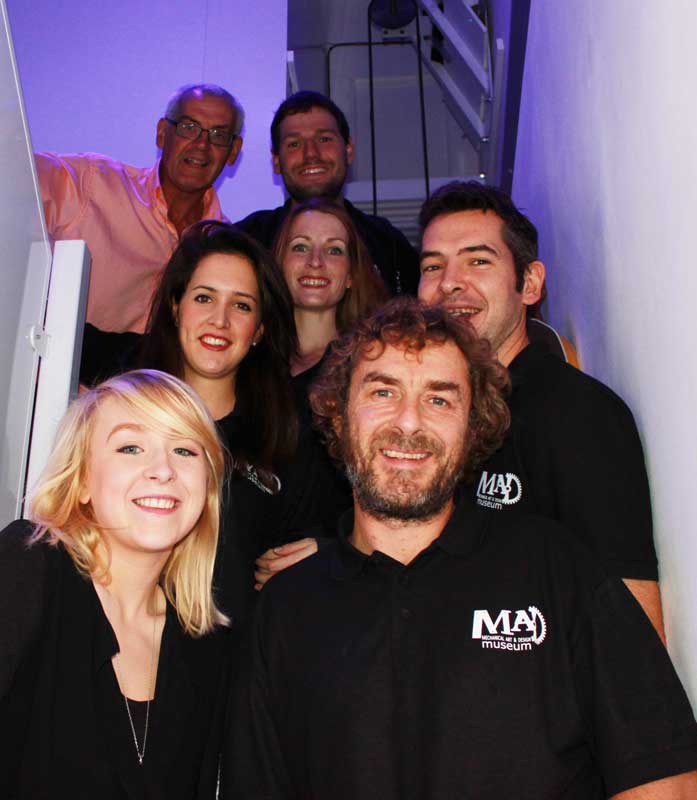 When I first heard about the imminent opening of a museum for mechanical art and design, I was enthusiastic but thought it might ultimately be a room with some kinetic sculptures visited by few. It turns out that a few years on, The MAD Museum is so much more than that. The ever changing exhibits, shop and activities makes The MAD Museum far more dynamic and busier than I first expected.
As an artist, I have found their support to be extremely loyal. I consider The MAD Museum as not a purely profit driven organisation, but a true and passionate patron in this unique field. Not only is it great for artists work to be seen and appreciated by the general public, but it is a highly beneficial platform for testing new pieces.
My late husband was a retired engineer and locksmith and he loved building quirky…(what I can only describe as) "things" in our garage.
His biggest, and perhaps most loved creation was a giant rolling ball sculpture. He spent so many hours designing and building this fascinating contraption. After David passed away in 2009 I contacted The MAD Museum on the off chance that they might like to take this huge sculpture off my hands. I thought it was a long shot but got in touch anyway. I was over the moon with the team when they said they would love to have it and would come and collect it for free.
I'm so pleased David's rolling ball sculpture found a new home for lots of people to enjoy it.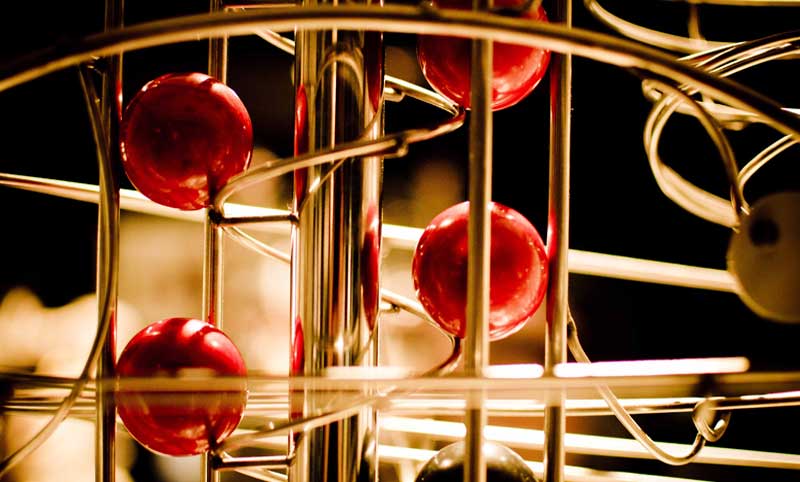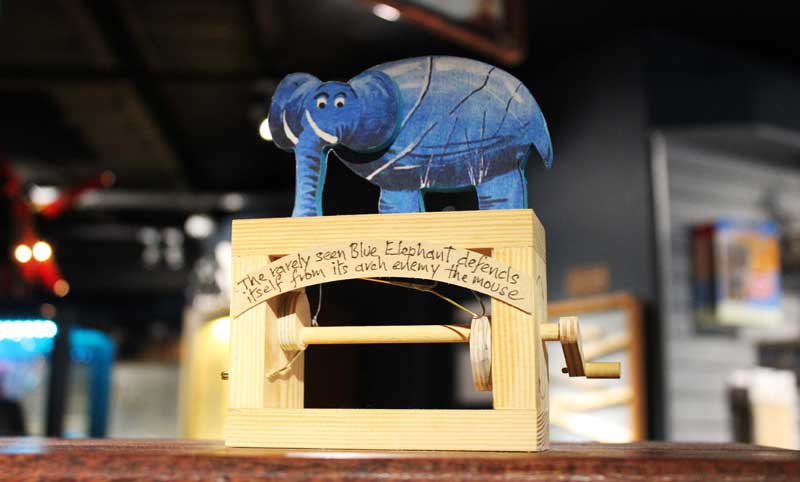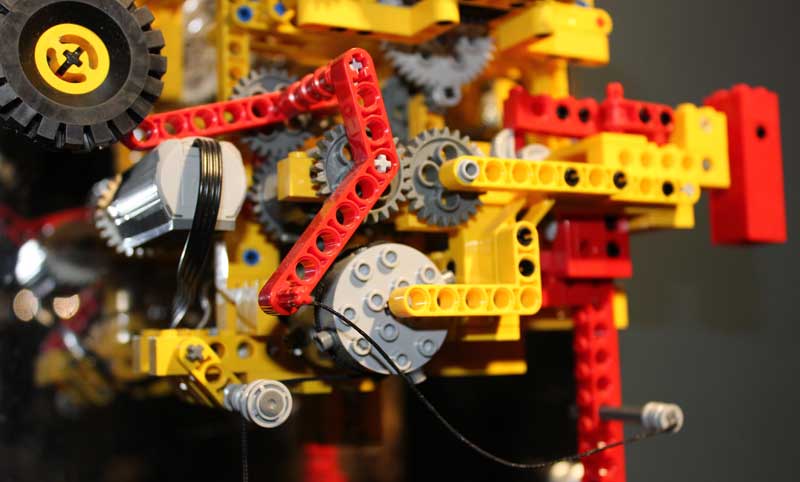 ♦ Motorised, 3D or interactive sculptures ♦
What is Kinetic Art
Kinetic Art is simply art in motion. It is a sculpture that moves in some way or gives the impression of movement. Find out more
here

. 
What is Automata?
Generally refers to a moving, mechanical device, usually constructed to look like a human or animal figure. Find out more
here
.
The MAD Museum's Environment
HVAC systems.
Relative humidity – 50% RH.
No natural light, only changeable spotlights.
Limited pollutions – the museum is regularly cleaned eliminating the build-up of day-to-day dirt and dust.
We have security cameras throughout the museum.
Members of staff constantly patrol the museum.
Safely barriers are used for necessary exhibits.
We have a strict no touch policy. Visitors are encouraged to push all the buttons and play in the interactive areas but all visitors upon entry are told not to touch the exhibits.
Guide dogs are welcome into the museum but pets are not allowed.
Food and drink is not permitted in the museum.
We have no catering facilities on site.
There are toilet facilities, including disabled toilets.
2 fire exits.
Regularly monitored smoke detectors and burglar alarms.
Visitors under 16yrs are not allowed into the museum without a supervising adult.
Wheelchair and pushchair access throughout the museum.
We encourage visitors to leave their bags, accessories, coats and pushchairs in our storeroom during busy periods.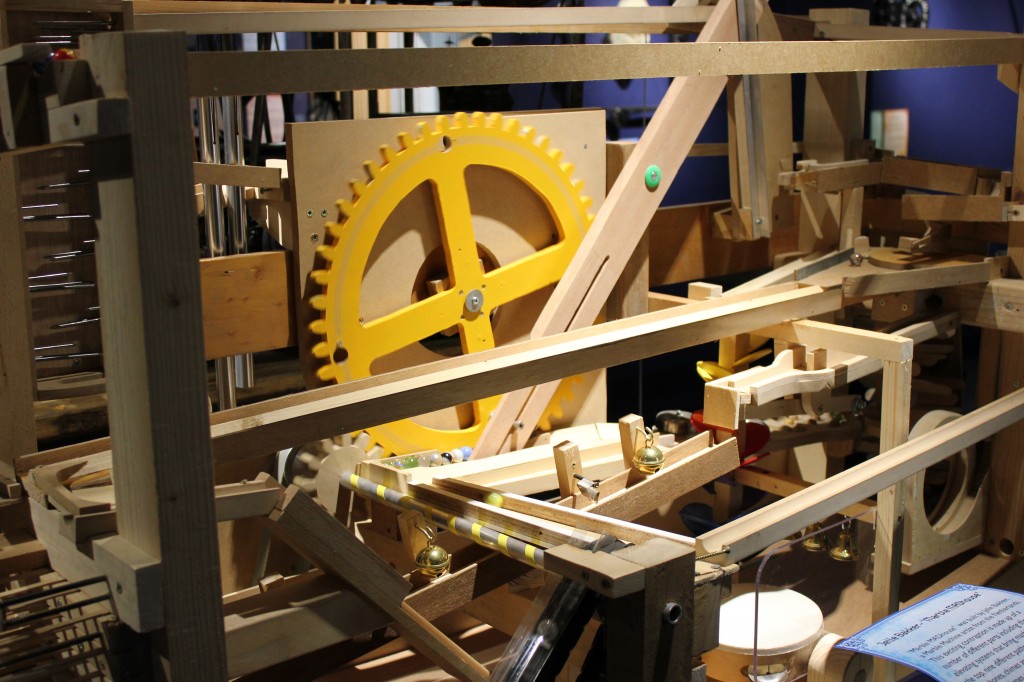 Please contact Iain Simmons for all enquiries relating to artwork attainment.
Once in correspondence, we will send you further information about security, insurance, installation, transportation and display.
MAD has provided a platform for the public exhibition of Automata and Kinetic art. For people such as myself the museum is a niche and the hub of a network of like minds to exhibit and communicate.
Nowhere else can the public enjoy the mechanical output of such diverse and innovative practitioners. The breadth and range of the ever changing work on show is a testament to the world of idiosyncratic invention. The amount of visitors of all ages and media interest has highlighted a sector of the international artistic community that for a long time has been sadly unrepresented. The contributors and staff of MAD have radically altered that situation. The creative work shown at MAD is now in its rightful and valued place in the public domain.
My own experience as one of first exhibitors is subsequently one of support, encouragement and the pleasure of working with and becoming friends with a wonderful bunch of people.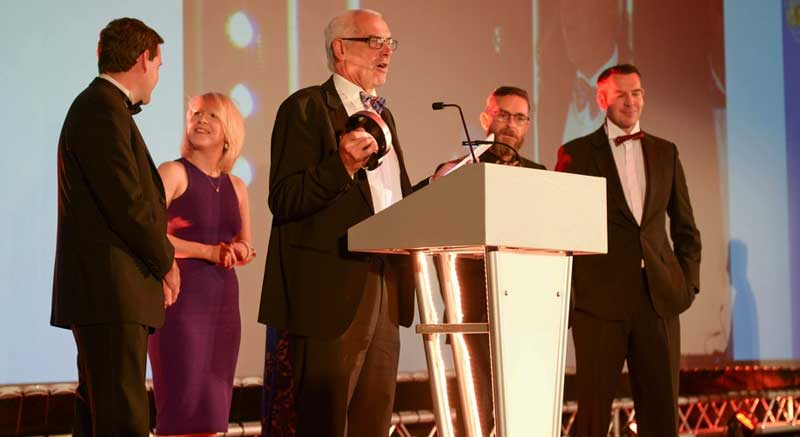 I visited The MAD Museum with the family whilst on holiday in the Cotswolds and felt like I'd at arrived home. I'd been making quirky models, toys and gadgets since I can remember. At first I used plaster of Paris, cereal packets and loo rolls, (I blame Blue Peter,) then after training as an Electronics Engineer I progressed to incorporating sound, light and movement into my art. (It's OK to call it art.)
I thought I was something of an oddity but after a visit to Stratford I realised that there are lots of like minded people out there. They even have names 'Kinetic Artist', 'Automata Artist' and 'Rolling Ball Artists'. The one thing they had in common was a desire to create something that entertained,  surprised  and stimulated the viewer. So I sent an e-mail to The MAD Museum with a picture and description of my latest creation asking whether it was something they might consider displaying , not really thinking that they would like my particular brand of quirky humour. But next thing I knew it was up on display , in its own special cubicle! The team are very approachable and helped 'fine tune' my exhibit for the museum environment.
There's a bit of a learning curve making stuff for the museum; It's noisy , so if you incorporate sound it has to be loud (with a volume control). It has to be reliable mechanically as it will be running a lot. To be honest, this will  sort itself out because if a particular part fails you just make it stronger until things stop failing. Make sure there is a button to press. People will poke anything (The Museum provides buttons). So if you've made something and  people say ' I really like it but why did you make it? ' I encourage you run it by the Team at MAD. You are not alone!