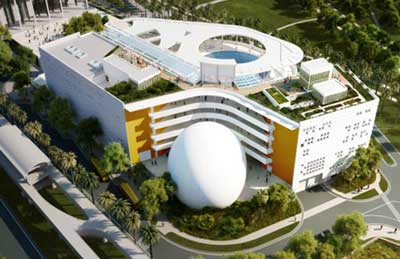 MAD Museum founder, Richard Simmons recently returned from a short trip away to Miami, USA. While there, he went to The Miami Science Museum and was incredibly impressed with the vast assortment of things to see and do there! The rich insights into scientific and mathematical principals were inspiring and were very entertaining by virtue of being highly interactive. Richard found the exhibits both interesting and profoundly thought provoking while also being delighted with the helpful nature of all the staff; in particular he remarked about the very passionate curator charged with looking after the live coral displays!
While exploring around the museum, Richard discovered that there were new plans afoot for the museum to become even bigger and better. In early 2015 there will be a brand new science museum built called the Patricia and Phillip Frost Museum of Science which is set to open in downtown Miami. This 250,000sq ft science museum will house an enormous aquarium, planetarium and roughly 30,000sq ft filled with exhibits. The ethos behind the new museum is "The future begins here" and we hope that this vision will be experienced by every visitor.
Richard also met with Gillian Thomas, President and CEO and Sean Duran, Vice President of Exhibitions. Both Gillian and Sean were already aware of The MAD Museum having heard about it via the internet and were very excited about the type of art we showcase in the UK. Sean told Richard that the museum is currently searching the globe far and wide, with a call to artists for submissions to exhibit their work at the new Patricia and Phillip Frost Museum of Science.
Back at the office, we have been putting on our MAD thinking hats and we are cooking something up to see if we might even submit a piece to the museum ourselves, so watch this space!
Richard was very impressed with the museum in Miami and the hospitality shown to him. He'll definitely be going back in 2015 to see the incredible new science building and exhibits!
Find out more at- www.miasci.org