Accessibility at The MAD Museum
Henley Street, Stratford upon Avon, Warwickshire. CV37 6PT
The museum is located on the first floor, above Lakeland and between Toni & Guy and The Cornish Bakery. It is based on the opposite end of Henley Street from Shakespeare's Birthplace and Windsor Street Car Park and Coach Drop off.
 Please note: The MAD Museum used to be located on Sheep Street (CV37 6EF) in Stratford upon Avon (March 2012- October 2013). On Saturday 26th October 2013, we opened our current premises on Henley Street.
Accessibility at The Museum's Entrance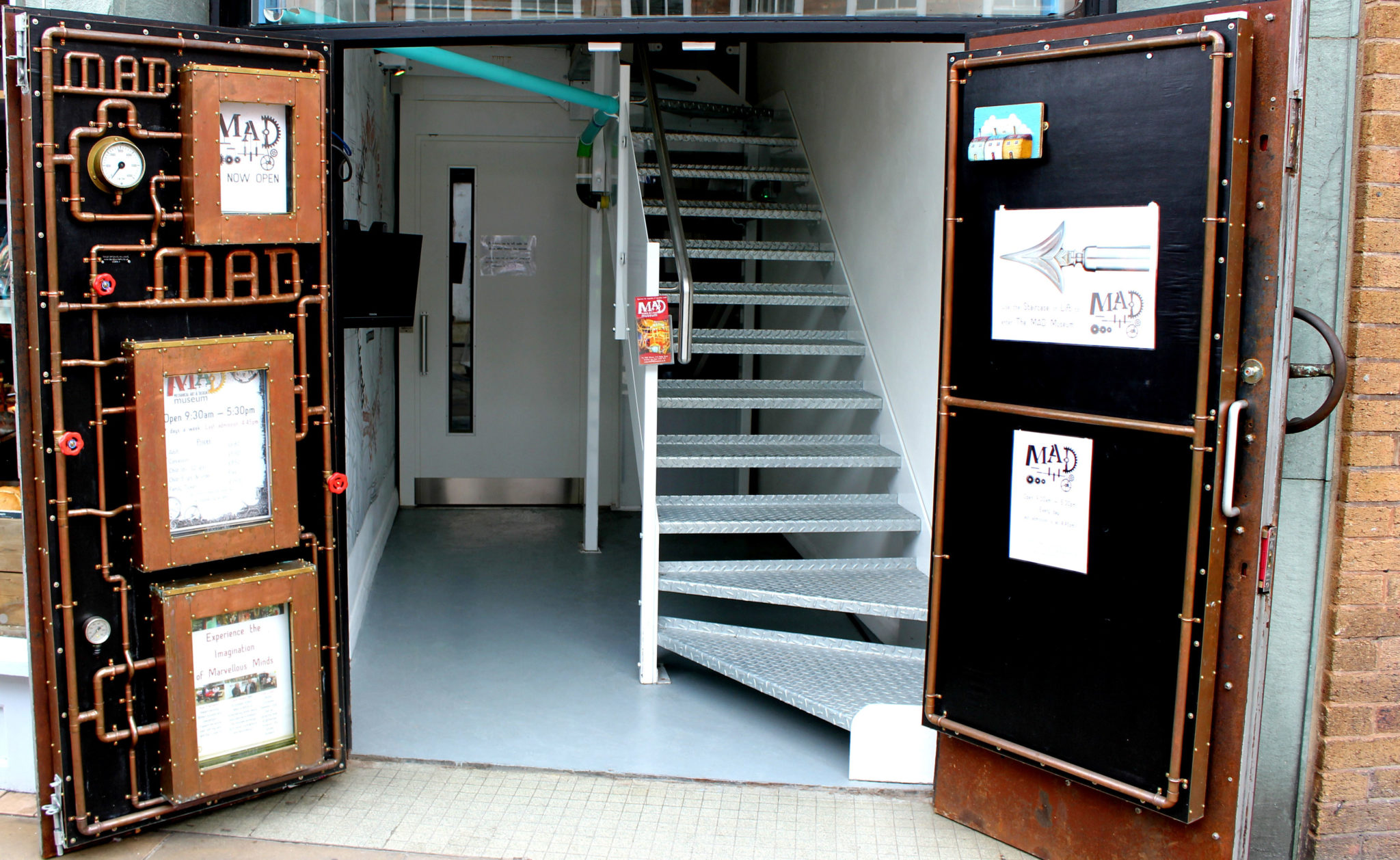 The MAD Museum's entrance is well lit and there are no steps in this area. Visitors can either use the staircase or utilize the lift to access the museum.
The lift can be found at the far wall of the museum's entrance (white lift door with a silver, pull handle). The lift carries one wheelchair user/ push chair at a time.  There is a clear audio announcement in the lift and the buttons are labelled with braille text.
The lift will bring the user out into the museum's shop and reception area.
Accessibility throughout The Museum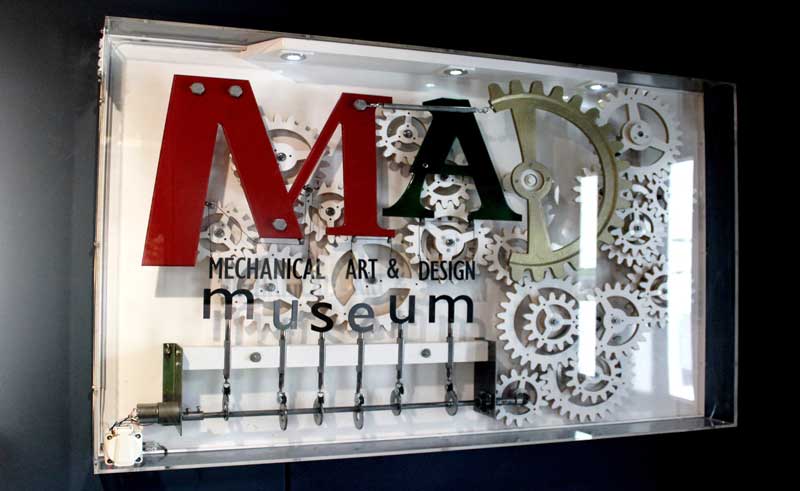 Visitors enter the museum on the left of the reception desk and exit through the gate on the right (facing the desk).
The museum is situated entirely on one floor, no ramps or steps are present in the museum.
Everyone can move through the museum at their own pace and spend as long as they wish in any particular area.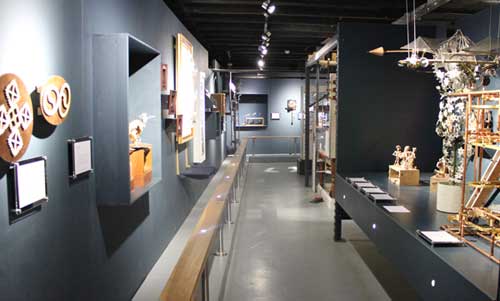 There is a good contrast between the floor (light grey) and walls (navy blue) in the museum. Clear surfaces such as glass and plastic casing have contrasting markings on them.  Clear signage (colour contrasted, large lettering and pictograms) are used throughout the attraction.
No natural light is present, spot lights illuminate everything throughout the museum.
There are several seats dotted around the museum at appropriate intervals and the museum's cinema room also has seating.
During busy periods (weekends, bank holiday and school holidays) we can't promise we will be able to facilitate pushchairs in the museum. There is limited space for storing pushchairs at the entrance (left at owners risk)
Thank you.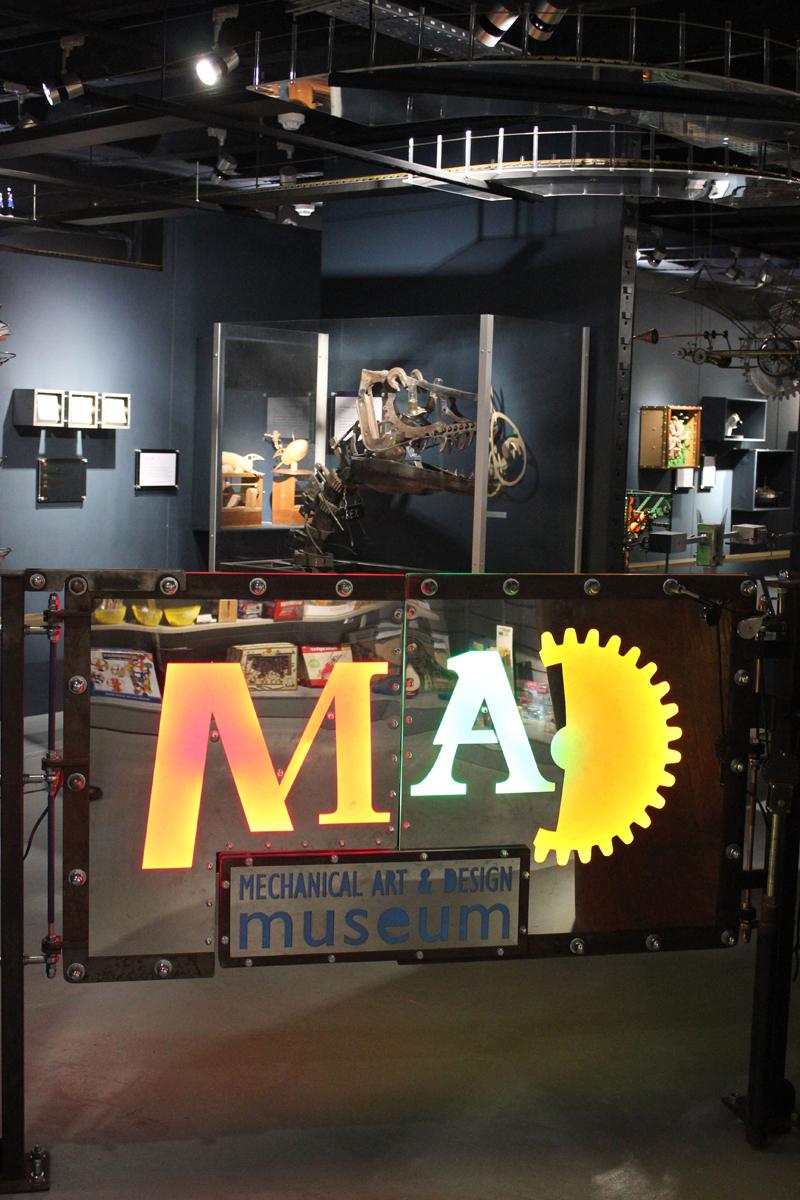 We can supply a comprehensive risk assessment document if requested.  Please email us before your visit to receive an electronic version.
Disabled visitors and visitors with special educational needs are entitled to a concessionary ticket for entry into the museum. An accompanying helper is permitted to enter free of charge.  
We have 1 or 2 pieces of art which feature flashing and/or moving lights on display at the museum currently. These pieces, depending on your condition might not agree with you. Therefore upon arrival, please tell a member of staff about this matter and they will clearly tell you where the exhibits with flashing lights are and how they operates.  Signage is also used to state this issue where necessary.
Please let us know of any other health issues you feel might be triggered or affected at our museum.  We will help however we can.

The MAD Museum is multi-sensory and hands-on. We encourage our visitors to press buttons and interact with tactile objects. Within this venue are a wide variety of sounds, lights, movements and colours on display. These all work together to provide an exciting, multi-sensory experience.
The museum also helps with the development of social communication, cognitive skills and visual memory.
Recently we installed MAD Marbles, which is essentially a giant wall on which we ask people to construct their own marble runs using inspiration from around the museum. This activity encourages the exploration of personal creativity, team work and understanding through what is essentially a rather fun, tactile game.
This independent museum is relatively small meaning those with emotional and behavioural difficulties have the space to move around the museum freely while also never being out of sight.
Our members of staff are experienced in caring across a broad spectrum of abilities and learning needs. We want you to have the best possible experience so please let us know how we can help.
With regards to pre-planned group visits, we can tailor their experience at The MAD Museum to their particular needs. Planning visits, resources and risk assessment documentation is available on request. Please go to our Educators page for more information.
What  a brilliant trip! I expected the more creatively-gifted pupils to thoroughly enjoy the museum which they did, but it also really brought a couple of our boys out of their shells which was delightful to see. We will be back! Thank you.
There are lots of places to park in Stratford upon Avon. The closest ones to The MAD Museum are the Windsor Street multi-storey car park and drop off/pick up Coach Park, which is a 2 minute walk to the museum. Rother Street multi-storey car park is also close by.
All of Stratford upon Avon's car parks are situated within a 5 minute walk of the town centre and The MAD Museum. For more information on number of spaces, disabled parking, motorbike or coach parking availability please click here.
A small number of disabled parking spaces are available outside the Museum. Blue Badge holders may park in these spaces for 30 minutes between 8am and 11am. These spaces are controlled by the council rather than the Museum. For more information please see Stratford upon Avon's council website.
Blue badge holders are permitted at bothWindsor Street and Rother Street car parks. Parking is free in all District Council car parks for blue badge holders. For more infromation on disabled parking around Stratford upon Avon please click here.