Educational Visits
The MAD Museum supports the STEAM Subjects – Science, Technology, Engineering, Art & Maths. Catering to all age groups, MAD encourages learners to interact, examine and be inspired by the one-off inventions on display.
Booking Enquiry
RISK ASSESSMENT
Depending on the age of your learners, the discounted group rates range from £5 per head with free tickets for teachers. This gives you entry in The MAD Museum, exclusive access, complimentary teacher resources, activity packs for pupils, free recce visits for 2 teachers, discounted automata and marble machine kits and the support of knowledgeable members of staff. Our group packages are only offered during Warwickshire Term Time and for prebooked visits.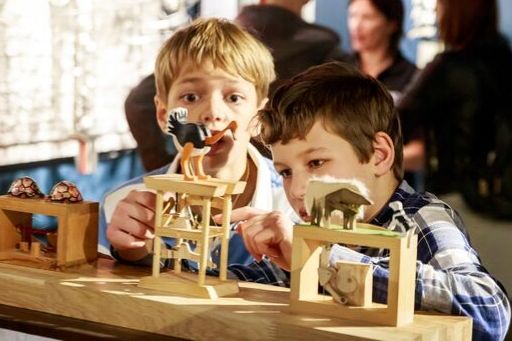 Find out more by looking at our information packs below
Resources for before, during and after a trip to MAD. Lesson plans, explanations, facts and tips which all support the national curriculum.
Cam Automata & Linkages Kits
Support your topic and a trip to MAD with a classroom activity. Build a choice of 3 different mechanisms with these easy-to-follow construction kits.
Engaging educational activity packs for learners to carry out during and after their visit to The MAD Museum.  Whilst supporting the curriculum, they also encourage learners to design, describe and think outside the box.
As part of a group booking, you can purchase our marble kits at a discounted rate. Made by MAD, we offer four different construction kits, all varying in design and complexity.
Teachers and group organisers are encouraged to carry out complimentary familiarisation visits at our MAD Museum. Come and see whether your pupils will benefit from a trip to MAD.
DOWNLOAD OUR INFORMATION PACKS…
Click on the image or text below for the pack which is best suited to your age group.
Year 7-11 (ages 11-16yrs)
"Huge success with kids & teachers"
"The teachers said that staff couldn't do enough to help the kids. A great day and a successful trip. Thanks for all you did to 'oil the wheels'…appreciated!" The Grange County Primary School
"Very enjoyable few hours"
"The group really enjoyed the visit, it is certainly a wonderful place. Thank you for making us feel so welcome there. The students loved the museum and I hope to bring more next year." Campion Hall (Oxford) Language School
"Educational & inspiring"
"Please pass on our thanks to the staff at the Mad Museum for the care, attention and inspiration today. All the children had a fantastic time, one wants even to be locked in and sleep there!" St Giles Junior School
"We had a great time! The exhibits were amazing and the children loved the fact there was so much interaction. I think the staff had just as much fun as the students. We will definitely be recommending it to colleagues!" Ratcliffe College
Talk to our Bookings Team
MON – FRI 8:30am - 5:30pm
Get in touch
Let us know if you would like to book in or have any questions!