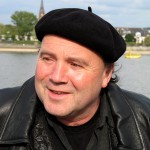 Willi Reiche (born in Germany in 1954) studied History of Art in Bonn. He embarked on his career in 1982 by exhibiting his works of art at numerous individual and collective expositions. In 1990 he gave up his entrepreneurial activity as a manager in a graphic workshop (serigraphic) in favour of art. He has since then been working as a freelance artist. Since 1998 the major topic of his creative output has been the construction of kinetic objects fitted with different motors for indoor as well as outdoor exhibits.
Reiche often uses anachronistic relics from different areas of life and usage: from agriculture, research, medicine, from canteens, transmission gears from early days of industrialization, etc. The unconventional (re)arrangements of Reiche's kinetic works of art are poetic, exciting, amazing, irritating and – of course mad. "All the senses are being stimulated. The subtelity lies in the orderly (and at times disorderly) interplay from heavy to filigree, light to darkness to perhaps simply – shadow dancing. This combination of different objects integrated in a working machine is an awe-inspiring experience in its own right. The fanciful arrangements of the objects arouse a feeling of (irritated) amazement in the observer who is caught up by the patina of rusty iron, grained wood, or even the shine of precious metals – all functioning in perfect harmony.
Reiche manages to capture the viewer's eye, but still leaving enough room for personal experiences and interpretations." Several of Reiche's kinetic works of art were exhibited at NordArt (Northern-Europe´s largest annual art exhibition) during the summer months of 2007, 2008 and 2009. Even in film productions and at technology fairs Reiche's kinetic objects have already been presented as eye-catchers.