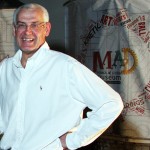 As founder of The MAD Museum, Richard has donated pieces of kinetic art to display which he has collected over the years. Not only that but he also has created his own contribution out in the garden, the Water Feature and intends to build more exhibits himself.
Richard has always been fascinated with mechanics, design and art and how each very different aspect blends together to create a visually impressive display.
Originally a trained chartered surveyor, turned property developer, he then moved towards the internet and set up information related websites for the construction, renewable energy and luxury markets.
For a long time he has been searching for the right location to bring The MAD Museum to fruition and its launch has only encouraged him to find more works of art for the world to see.