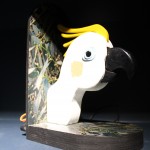 My pieces are made predominantly from wood. Partly because it is a beautiful material to work with but also because there is a considerable challenge in making complex mechanisms and pieces out of a natural material. Most of my automata have complicated mechanisms which took months of design and experimentation to develop. I retain the first example of each piece as part of my personal collection and for reference purposes and I have a limited production of repeats which are available to order.
To help others start in automata making, a fascinating and diverting hobby, I also sell plans which can be used as a base for a variety of subjects. I exhibited at a Maker Fair in 2011 and discovered the opportunities that are opened up by the use of sensors and micro-controllers. The attraction of independent interactive pieces was also driven home after 2 days of turning cranks! I have extended the aesthetic of my automata making into animatronics, still using wood wherever possible but with the addition of electronics to bring the pieces to life and enable them to interact with their audience.
This interest has developed into the Rodni project which introduces school pupils from 9 to 14 years old to the world of micro controllers and software coding. I supply materials for schools to develop their own Rodni project and also lead workshops in schools. The aim is, in a hands-on way, to widen the horizons of pupils to the opportunities that are available to them in the increasingly important world of information technology. I exhibited this project at the UK Maker Faire 2013 in Newcastle.