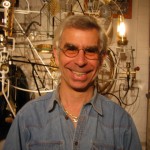 It was at Basel, where he was born in 1953, that Pascal Bettex became fascinated, at the age of nearly ten, by an exhibition of the work of Jean Tinguely. Moreover, his grandfather and his father passed on to him their talent for creativity, so that, by the age of sixteen, he had already produced his first mobile.
A great admirer of the technical ingenuity of the early twentieth century, he is passionately fond of restoring old pieces of machinery. Since 1999, he has dedicated himself to kinetic art and specialises in the creation of highly imaginative mobiles based on objects he has fashioned into new forms.
Apart from his manual skill, he possesses a rich imagination and his great pleasure is to see the faces of onlookers, children and adults alike, light up as they take in his fun pieces.