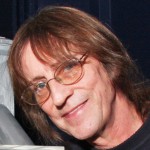 Neil was originally trained and worked as an architect for 13 years before seeing that Automata was a far more interesting line of work. 2012 will the twentieth year he has been creating models and it still excites him every time a new piece of work is finished. He became a member of the British Toymakers Guild in 1993. Since that time, Neil has engaged a number of craft shops and galleries who have sold his work on a regular basis throughout the UK.
As Neil's work has become more renowned, he receives many letters from abroad enquiring about his pieces. Many items have been sold in a number of galleries from Paris to Japan and Australia to America!
Neil's items have featured prominently at MAD since our opening day and we are regularly interchanging his items and adding to our collection. Neil never fails to get strong humour into his Automata pieces.