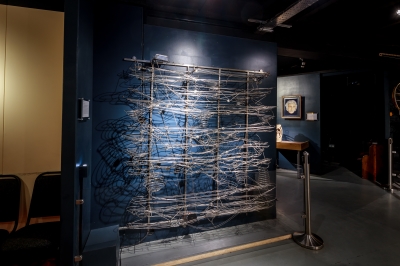 From Matthew's website:
I have always loved anything that moves on it own. I grew up next to a creek and spent most of my early years walking up and down Kelsey Creek with my faithful dog, Hershey. I was always fascinated with how the water would never cease flowing downstream, transforming the creek as it did so, moving big and little rocks alike. I would dam up the stream with rocks and sand to see it overflow and watch the water flow in new directions. All that was needed was water and gravity.
So when my brother Larry, gave me a "Spacewarp" (Black Wolf) he found at the thrift store I was amazed with the concept. The Spacewarp is an older, plastic, manufactured Rolling Ball Sculpture toy; It had a coil of track, snap on spacers, an automatic spiral lift and several cool elements. It was easily the coolest toy I had every owned after my ball clock.
Years later, I looked online to see if I could find parts for the ol' Spacewarp and restore it to it's former glory. Instead, what I found was a few other examples of RBS's made from steel. This was my "Aha!" moment where I realized I could make my own structures with metal. I started making ball tracks with soldered brass rod but the solder joints were very weak so I decided to changed over to TIG welding stainless steel for it's durability and corrosion resistance.
Welding gave me the ability to join steel together with a strong, permanent connection. Once I started welding with stainless steel rod I never looked back. It's a wonderful experience to picture something in my mind, then shape the metal, weld it and see it become reality.
After creating over 300 rolling ball sculpture's I now have 15 years of experience under my belt. Years of imagining, designing and building fun and intricate moving kinetic RBS's. It has been an exciting journey to start as one of the pioneering RBS creators when there was very, very little information, or videos, about RBS on the young internet back in 2003. From a humble start, to now having shipped my art into many countries worldwide. I have had my tracks and elements displayed in TV shows, been used in multi-million dollar builds, and have added my ball tracks skills to many on-location projects, such as Escape Rooms and Rube Goldberg machines.
I love that I get to create something like an RBS from basic raw materials that can entertain and amaze people of all ages. I feel like I am at my best when fulfilling your dream of owning a custom, unique, handmade Rolling Ball Sculpture. So, if you're interested in having me build you your very own kinetic art sculpture, then send me an email. Let's discuss your vision, so I can make your dream a reality.
My wife, Jacqui, and I live close to the shores of Clear Lake in N. California.