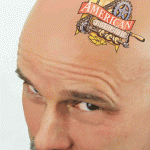 I am a graphic designer by training, but have professionally been engaged in a multitude of design projects including residential and commercial interiors, environmental graphics, product development, packaging, games, furniture, houses, gardens, and many other things too unusual to mention. Along with creative talents, I also have developed execution skills as an illustrator, fabricator, carpenter, plumber, electrician, mason, and mechanic.
I've been characterized as a Renaissance man, and less notably as a jack-of-all-trades. For the later, and somewhat to my chagrin, a master of none. However, in 2000 I was offered a position as a lead designer with the Seattle game company, Front Porch Classics. At Front Porch, I combined virtually all my talents and skills into designing and building retro kinetic games. The most notable being Old Century Baseball, a wooden pinball-style game. At last, I had combined all my "jacks" into a "king."
Expanding on my work at Front Porch Classics, I have launched Coastal Kinetics, where I continue to expand my skills and creativity into innovative forms of mechanical art. Last year I had my first opening in New York City, and am pleased to have a piece being shown at the MAD Museum.
I have recently completed a commercial installation and am presently working on a line of limited edition pieces for the speciality retail market.