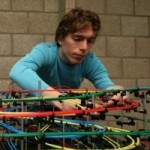 I am Jelle Bakker and I live in Amersfoort (the Netherlands). I was born in Wervershoof (near Hoorn, the Netherlands) in 1983 and my biggest hobby is constructing marble machines. Since 2001 I began constructing more complex room sized marble machines with elevators and multiple paths. My biggest milestone was setting the guiness record longest marble run in the world on 21st May 2009. This marble run was 210.31 meters long. Unfortunately, it's already broken by someone else in September 2011.
The Marble Machine "Marble MADhouse" is my first international project outside of the Netherlands and Belgium. This marble Machine has 3 marble lifters and lots of paths with bells, chimes and woodblocks. Now i hoping of a international project outside of Europe.
My biggest dream is having a big hall with a giant marble run with thousands of track meters with light shows and multiple paths and lifters.