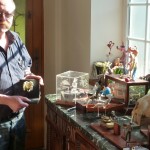 Jean Pierre Galopin was born in 1956 in Brittany, France. Since he was young, Jean Pierre has been captivated by putting different elements together, computer engineering, electronics and construction sets.
His highly amusing beautifully crafted pieces of art are conceived in his workshop. This hideaway is chock-a-block full of bits of machinery, electronic parts, wood and metal workings, computers, cables of all colours and stacks of books going right up to the ceiling. "It is a bit disorganized and chaotic but it is my paradise. Here I give life to my ideas" said Jean Pierre Galopin.
Jean is the co-author of a World Patent for washing machines and his creations have been referenced by well known and respected automata artists such the famous American inventor Dug North and Mechanical Lizard. "I want to write poetry in 3D, I find it funny!