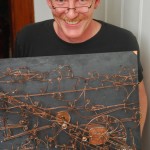 I'm a German artist working and living in Dorsten, Germany and have been working in copper wire for almost 30 years. Initially I built static objects but for some years now I've been fascinated by kinematics and now mainly build Kugelbahnen (Rolling Ball Sculptures).
It is important for me to ensure the overall aesthetic impression combined with the intricate mechanics to ensure each sculpture has its own specific peculiarities. In some I use a rotating stone, in others rolling balls release in sequence and again, in others switch points change the paths of the balls. I draw in the observer eliciting their curiosity, to try to find out which path the ball will take. Even now I get drawn into the sculpture following a rolling ball down its path. I want my sculptures to excite the observer so they will want to use and touch the sculptures and I enjoy playing with them myself.
In general my sculptures are products of my fantasy and are created without any plans. I have a basic idea and only during construction details are finalised eventually turning the sculpture into a piece of art. Building Kugelbahnen is like an addiction; since building my first one I am constantly thinking about Kugelbahnen and every time I am build a new one at least three new ideas are conceived.