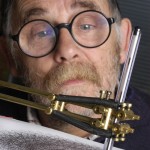 David Williams has pursued his life-long interest of Kinetic Art for many years and has created many amazing contraptions using precise and intricate workings and mechanics. A lecturer in 3D design for many years and more recently in props and special effects he uses his appreciation of both art and science and the relationship between organic and inorganic materials to produce stunning exhibits.
His work usually involves copper, brass, leather and organic compounds with geometric accuracy and an engineered flair which exudes his mastery in each component of construction and placement.
In his own words David says, "Each statement involves a system only pertinent and definitive to itself. It will always be an intuitive adventure".