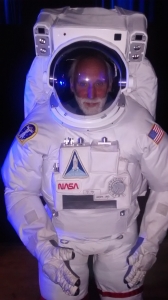 I was born in Morden, Surrey and grew up in London.
I have dyslexia, but when I was young people just thought you were 'stupid' because you had problems learning to read. I eventually got a degree and 3 MSc's including one from Oxford.
As a child I always took all my toys apart. As I got older I started to be able to put them back together again. I just had to know what was in them and how they worked.
I had three main careers: making scientific instruments, robotics marketing, software testing. This let me visit lots of factories making all kinds of things including: medicines, electronics, cars, bread, washing machines, steel, double glazing, helicopters, ships, etc. I even walked around the inside of a nuclear reactor in Switzerland while it was being built ! Engineers are just normal people who are interested in those things and they nearly all seem to enjoy their work.
I run with Evesham Vale running club and am training for my second marathon. I also help organise the Evesham Light Festival: https://m.facebook.com/EveshamLightFestival
I retired 3 years ago, so I joined a Evesham repair cafe and helped restoring Evesham cinema. I volunteered to help at the MAD museum because I love it. They are all really nice people and it's such an exciting place. The great thing is every time you visit there are new things.