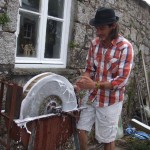 Carlos was born in Colombia in 1963. The Visual Arts have always captured his imagination and over many years he has been especially drawn to Folk and Tribal Arts from all over the world.
Carlos is a self-taught artist and whilst struggling to survive in London he found his own ways of expressing himself through painting, drawing and making things. In the late nineties he began making and selling his first automata, eventually enabling him to concentrate on creating new pieces full-time.
Many of the ideas for his new works have evolved and been taken from his own personal life experience of living in a foreign country and in his home country where a civil war rages on relatively un noticed by the outside world. His vibrant work is colourful and full of emotion. With the help and encouragement of Cabaret Mechanical Theatre he has quickly gained international success.
His work is in private collections and museums in several countries.