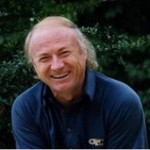 Andras was born in 1945 and is from Békéscsaba, Hungary. He attended the Academy of Applied Arts in Budapest and has an MS degree. His work has been exhibited all over the world and he has pieces in many museums in Europe.
In his current work, Mengyán attempts to find the answers to three questions:
• How is it possible (if it is possible at all) to comprehend simultaneously, the multifaceted nature and qualitative changes and aspects of a perceived environment?
• Is there any means of visually expressing this simultaneous perception?
• Is our three dimensional awareness adequate to comprehend all of these?
In weighing up the possibilities to find an answer he found a solution, which in short he refers to as: Polyphonic Visual Space or Simultaneous Spatial View