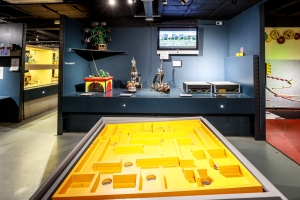 Alexander Berchert is a German sculptor, furniture designer and maker. He moved to the UK in 2005 and received his Bachelor of Fine arts from the University of East London in may 2012 with first class honours. Berchert is fascinated by physics and the human ingenuity behind mechanics and mass-produced objects. His work is vibrant, interactive and playful. Utilising the basic principles of physics he transforms ordinary household items into something new and unexpected. Through this process he is asking the viewer to consider the potentially endless possibilities of the mass-produced objects that we encounter every day.
Berchert also has 2 years experience in adventure playground engineering, creating large structural builds, including a new outdoor gorilla enclosure for the London Zoo. Always looking for a new challenge, Berchert decided to work in the art department for film and tv and worked for several London Art Directors, including Arthur De Borman, Mikey Hollywood, Kajsa Soderlund, Noam Piper and many more.
Berchert is also a trained picture frame maker and has a strong passion for craft and fine woodwork, which becomes apparent in his most recent works, mixing traditional materials and techniques with playful intent and interactivity.